MyMediTravel is a listing and marketing platform designed to help clinics, hospitals, and doctors across the globe market their services to potential patients, at home and abroad. We match patients with the best medical providers and set them up to communicate directly with one another.
During our time working as one of SE Asia's leading Medical Tourism Facilitators, we quickly realized that the current model is far too inefficient and doesn't offer the best User Experience. We believe that acting as a middleman between the medical providers and the patient hinders communication and adds little benefit to the process. Our role should be to focus purely on generating high-quality leads/patients with serious intent and providing a reliable platform on which to facilitate all this, allowing you as medical experts to nurture these patients and answer all their queries. So long as we overlap these roles, the patient experience will suffer.
If you haven't already created your MyMediTravel account, CLICK HERE to create one today. Or if you have an account on MyMediTravel but you don't have access to it, just send an email to support@mymeditravel.com and we'll get your login details sent over right away so you can take ownership of your profile today. This will allow you to add/remove procedures, doctor profiles, edit prices, add more photos, update your description, and much more to make your clinic more appealable to MyMediTravel customers and encourage more patient enquiries.
How Much Will It Cost?
The MyMediTravel business model aims to remove high broker/facilitator fees by instead charging a nominal fee for every lead we provide – our Pay Per Lead model. For simplicity, all lead prices are standardized, regardless of the procedure. However, for the 'Recommended' / Preferential Partners, leads are charged slightly higher, as this guarantees greater exposure – higher listing in the search pages, and a higher volume of leads – being referred leads when patients request our Recommended Clinics option.
Each clinic is required to top up its balance in advance, after which the cost of each lead will be deducted from the outstanding balance. Details of each referred patient are tracked in real time and are available to view in a shared spreadsheet. This sheet will be made available to you once we begin sending leads.
Prices are based on a minimum $340 USD top-up for Classic Partners and $490 USD top-up for Preferential Partners and for the start of 2023, a limited number of clinics in each region will be entitled to 20% more leads when ordering the Preferential Partners 100 leads package.
[table id=3 /]
Top up your Balance Now and Start Receiving Leads
For bank transfers, please email support@mymeditravel.com – bank charges must be covered by the sender
Example of Recommended Badge and Featuring on First Page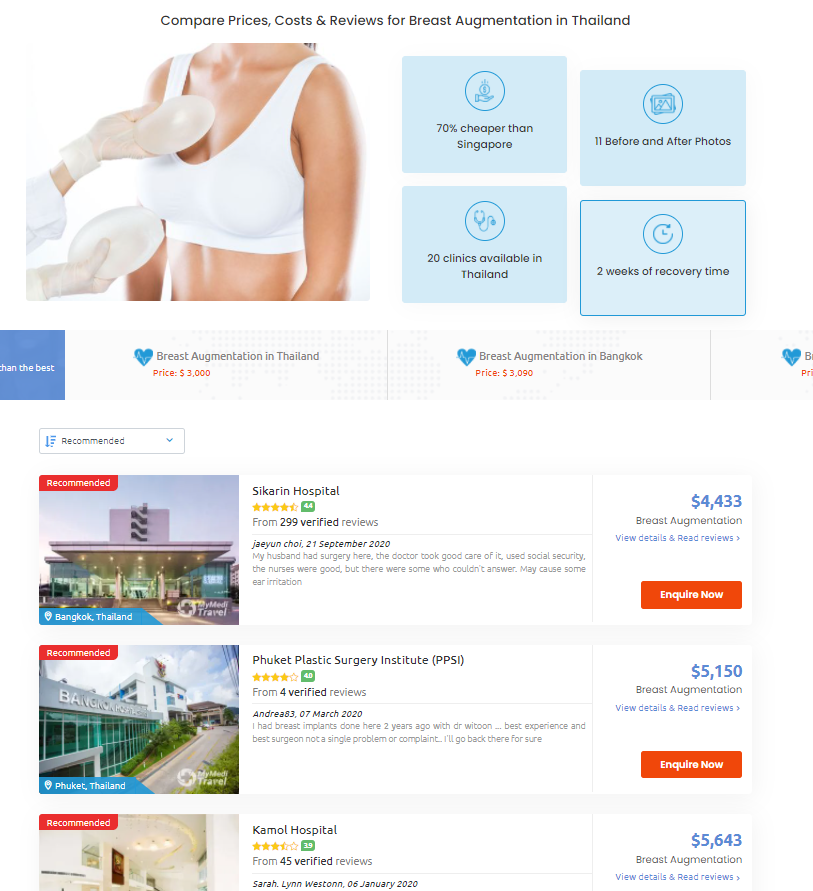 Example of where the Patient asks for our Recommendation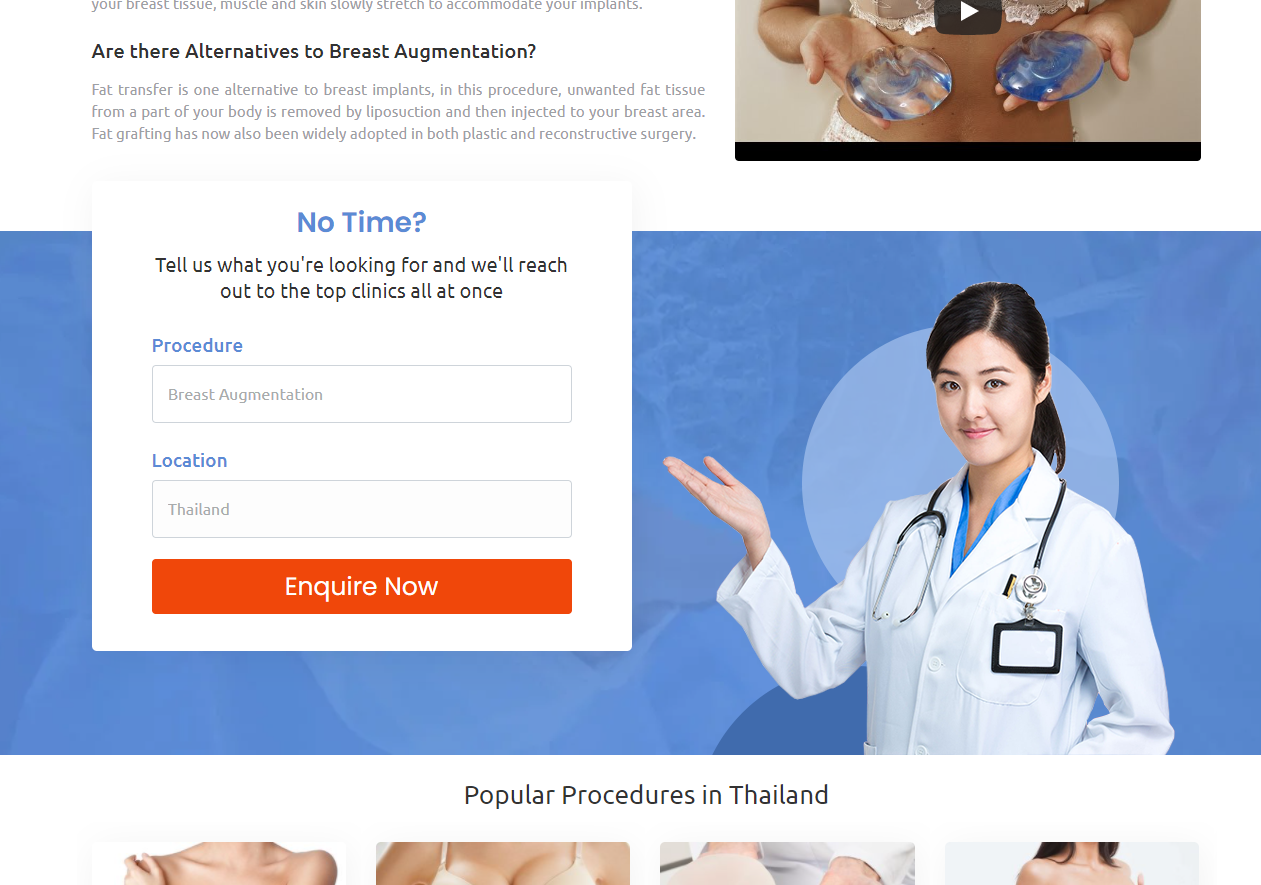 How does it work?
MyMediTravel customer enquires about a specific procedure in a specific location. For example, Hair Transplant in Istanbul.
We capture all the vital information from them during the enquiry process and send this over to the patient's desired clinic – example below. Or if they choose our Recommended Clinics, we will send to our top 3-5 facilities matching the patient's search criteria. Safeguards are in place to prevent duplicate referrals.
An email is sent to the patient with details of the clinic(s), notifying them that the clinics have been informed of their interest and will contact them accordingly – example below.
The cost of the lead will be deducted from the recipient clinic's balance.
Patient Email Example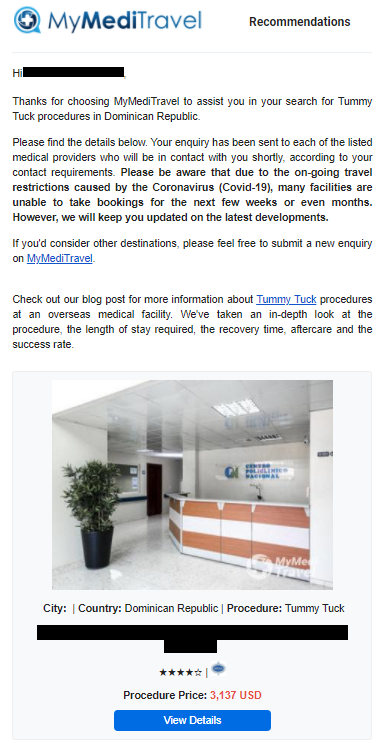 Clinic Email Example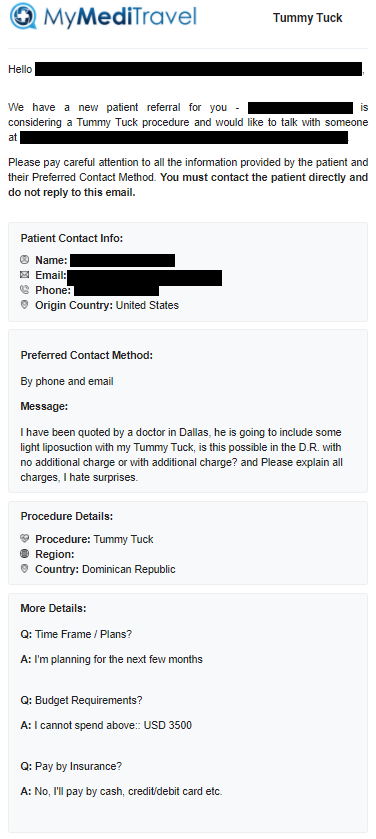 More Information