Welcome to MyMediTravel, your home of Medical Tourism Marketing!
With a MyMediTravel account, you can market your services to thousands of potential patients every day. Claiming your account couldn't be easier, just follow the instructions below and you'll be up and running in no time. And don't forget, this is just the Beta Version of our Clinic Backend offering, we're constantly working on enhancements and new features – you'll notice these changes every month!
Why do I already have an account?
Either you're already familiar with MyMediTravel and you're currently working with us or our team came across your services already and figured you'd be a great fit for us, so they created a basic profile on your behalf. Now all you need to do is update the description, procedures, and prices, doctor profiles, add new images and make sure the email and phone numbers are all correct. Instructions on how to do all this are below. If you don't already have an account and you're starting from scratch, please follow the Account Creation Guide instead.
Any issues, just send an email to support@mymeditravel.com and we'll aim to get back to you ASAP. We welcome all enhancement suggestions and if you find any bugs in the system, please let us know, however, no new procedures will be added just yet, but that's ok because we already have more than 1,300 to choose from.

Account Creation and Login
You'll have already received an email with your login details – use these credentials to access your account and then change your password in the Account Details section. Your password can be shared among all the potential users at your clinic (multiple login access will be available soon).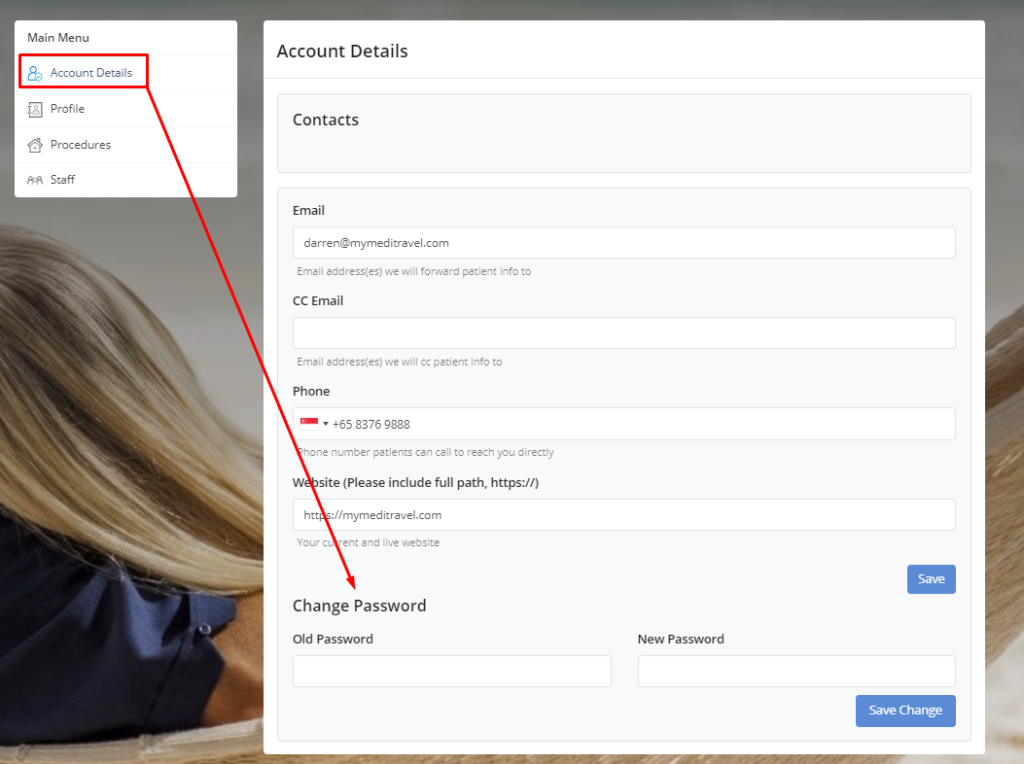 Then, for future logins, just go to the MyMediTravel.com homepage and you'll find the Sign in | Clinic button in the top-right corner. *IMPORTANT!* For existing MyMediTravel Partners, once you log in, your profile will be deactivated until your set up is complete and your profile has been authorized by the MyMediTravel Team. So we suggest, before you log in, you should ensure you have enough time to complete your setup, so as to reduce the number of missed leads.

Account Setup
Your basic profile will already exist, now it's time to check and update all the details, remember, this is what will initially separate you from the competition, so the more detail here, the better. Although your profile is available here, it is currently inactive on the MyMediTravel platform, and won't be until all the required information has been entered and the MyMediTravel team has validated it all to confirm everything is correct. You should follow this guide as closely as possible now.
Account Details
This is how patients will contact you, so if this information is incorrect, it will result in missed leads. The most important information is the email address and phone number, then we also request you show us your website so we can validate your clinic, this will not display on the website. If you don't have a website, please link a Facebook profile or some other site on which we can review.
Profile
Here is where you'll tell your potential customers all about your facility and showcase your accreditations, services and the languages spoken. Clinic Name should include only English alphabet language letters, otherwise, it will break your URL structure. Also note that you cannot change your clinic name after it is approved. Your clinic description should be at least 100 words in length and should focus on the services offered, the experience of the specialists, any package details that you might offer and anything that might differentiate you from the competition. It is best practice to completely delete the existing description and to rewrite it – we strongly advise against copy and pasting text from elsewhere on the internet, be it from your site or a third-party site, as this will limit your exposure, so try to write original content here. Enter your full address so the map can find your location, entering just your postcode won't work.
We require a minimum of 5 photos because it's important to give potential customers a feel for what your clinic looks like – you should include external and internal photos and, if possible, a photo of the team. It's clear from our research that the most popular clinics are those with high quality and varied photos that help paint a picture of your setting.
Click Save Clinic and move on to entering your procedures. Any errors, just make sure you correct them because you won't be able to move on without doing so, or you may lose the data you just entered.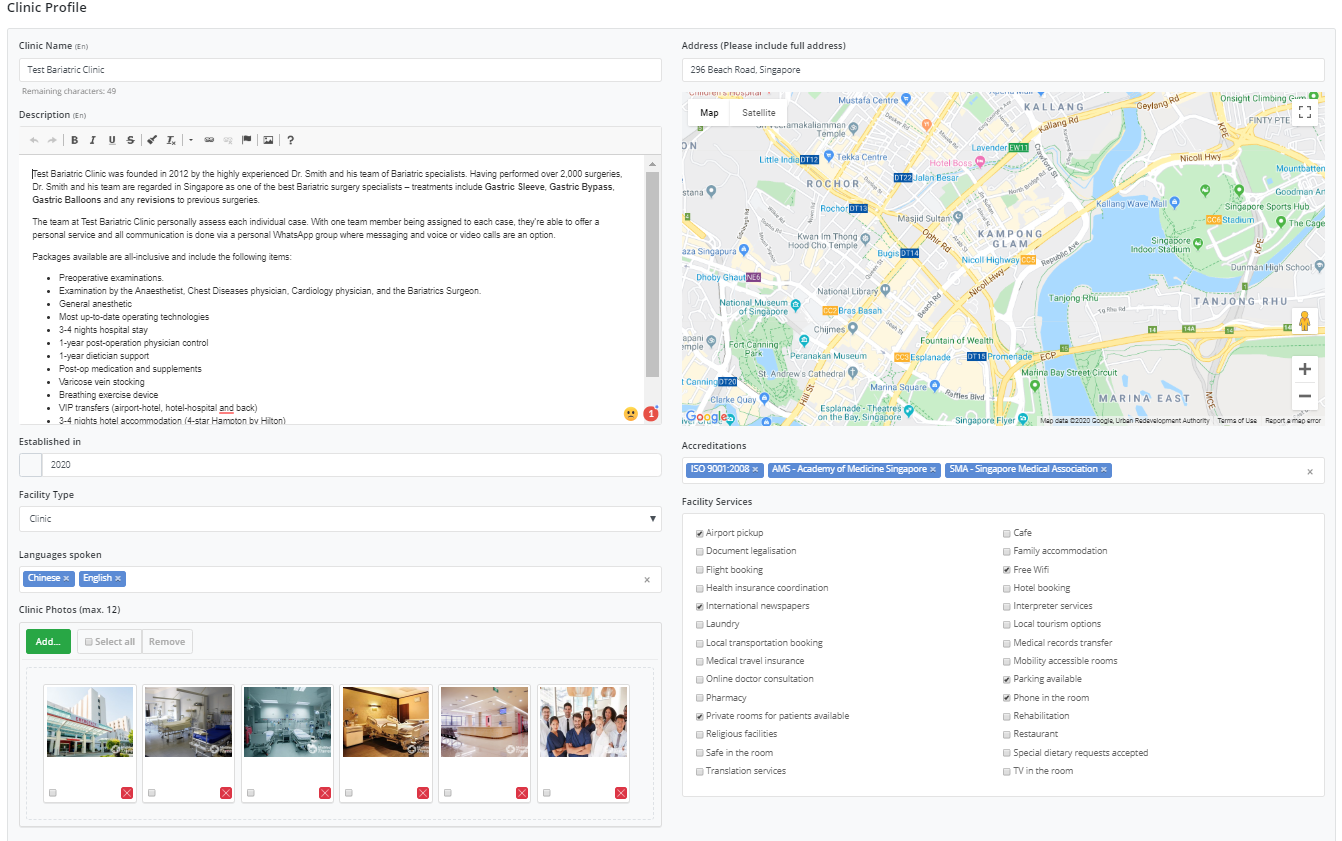 Procedures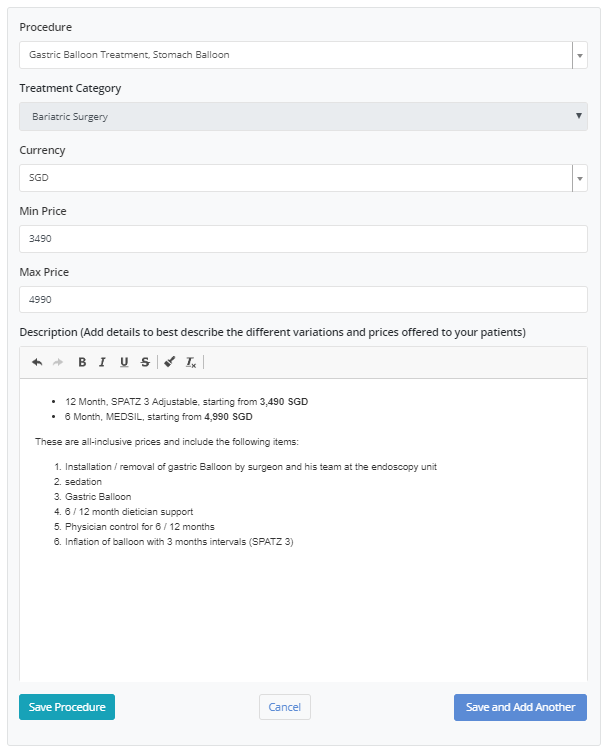 Procedures and their prices are what the MyMediTravel sorting algorithm is centered around. If you don't have a procedure added, then you can't get any patient enquiries from those looking in your area. If your prices aren't correct, then you could be overlooked, resulting in missed leads; price too high and your competitors will get the lead, price too low and your potential customers will lose trust in you when you tell them the real price is higher than stated. So the pricing of your procedures is absolutely essential. We require a minimum and a maximum price for each procedure, we no longer accept blank prices, so if you don't enter a price or some of your procedures are already there without prices then you won't be able to save your profile and submit it for authorization. If you cannot add a min/max price for whatever reason, then you will need to delete the procedure.
If you offer different variations of a procedure at different prices, you can just add these details in the procedure description, as shown on the left. This information will be displayed on the search page of MyMediTravel (shown below), on your clinic's procedure page and on any emails we send to potential patients. Keep this description short and concise though, too much detail won't look as good here.
If you have multiple procedures, just use the Save and Add Another button to quickly add these, one by one. For those with 100+ procedures, we can help by adding them on your behalf, so just add your main procedures and then let us know, we'll send you a spreadsheet to add the details to.
Staff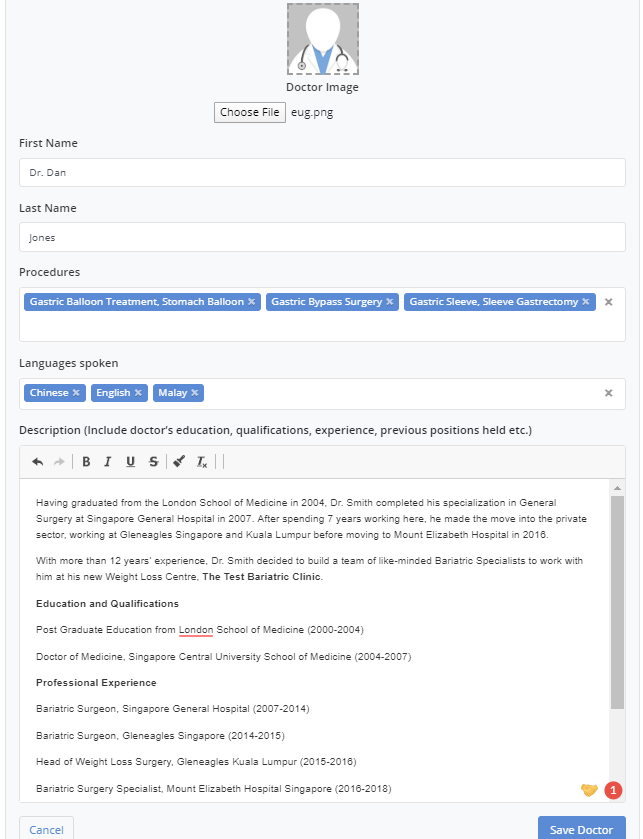 This is where you can showcase your doctors' and specialists' skills, education, qualifications, and experience. For each doctor added, we require a profile picture, name, the procedures they perform, the languages they speak and the description, detailing the aforementioned qualifications and experience. Again, keep this to the point, bullet points work well – like in this example.
We require at least one doctor/specialist profile, you won't be able to submit your profile for authorization without one. If you already have doctor profiles and they don't contain a profile photo or a description, then you will have to add this information or delete the profile completely.
Feel free to add a profile for any patient coordinators or other essential staff at your clinic – it's always reassuring for patients to match a face to a name and it allows for a more personal touch. Just be sure to describe the staff member's role in the description.
Submit Profile Creation
Your setup is now complete and you're ready to submit your profile for vetting and authorization by the MyMediTravel team – just click the Submit Profile Creation button on the left. Once you submit your profile, you will no longer be able to edit or add new procedures/doctors, instead, you will have to wait until authorization is complete. Should you have any issues submitting your profile, it just means you have missed something in your setup, the error message will indicate what's missing. Once you've corrected this, just click again. We'll send you an email to let you know the outcome.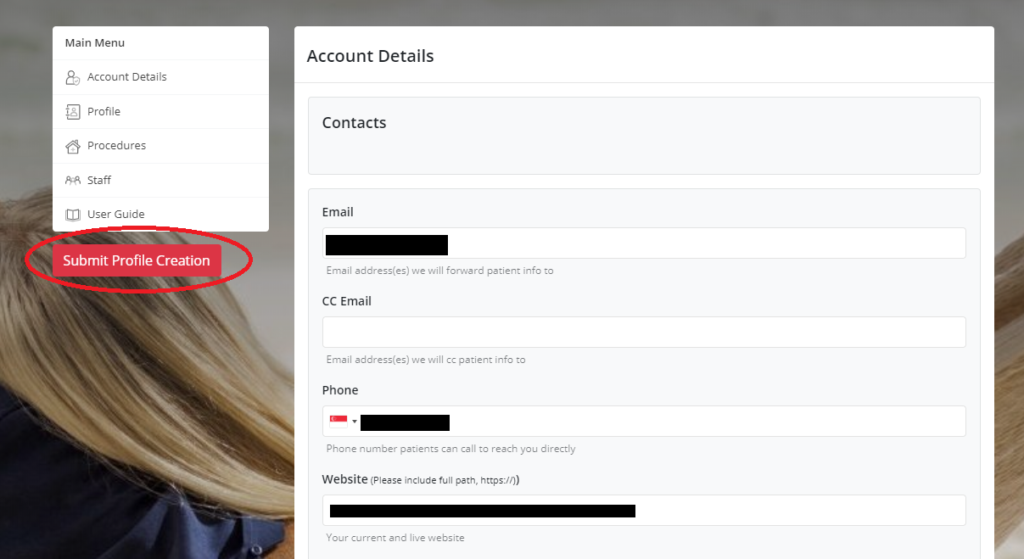 There are two outcomes from the authorization; Pass or Fail. Some of the common reasons clinics fail our vetting process are as follows:
Your address doesn't match with what we find online, either on your website or on Google.
Third-party reviews of your clinic are too poor, we do not want to market your services to our customers.
We cannot find any information about your doctors, so we can't confirm they are genuine.
Your procedure prices are deceptively low and we do not trust you to offer these prices to our customers.
You are not a clinic, you are an agent – we currently don't cater for agents, this is a feature that will follow.
Assuming everything is fine with your profile, you should receive authorization within 48 hours, after which your account will be live on MyMediTravel and we hope to be sending you leads right away.
More Information