Female Breast reduction (reduction mammoplasty), also known as a Reduction Mammoplasty, is a surgical operation to reduce the weight and volume of the breasts. During the procedure, fat, glandular tissue and skin are removed from the breasts, which are then reshaped and the nipples repositioned.
Breast size is determined by genes, hormones, body frame, and weight. For most women, breast size is proportionate to the body, but for some, the breasts are particularly large. Large breasts can cause physical symptoms such as Discomfort, Backache, Neck pain, skin irritations.
Psychological distress: Common complaints from women with large breasts include not being able to wear fashionable clothes and finding it difficult to take part in active sports.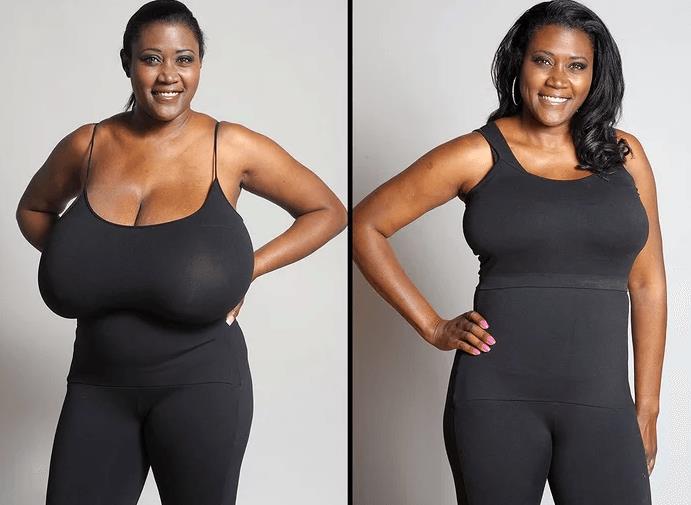 Large breasts are particularly sensitive to the hormone estrogen. They can grow particularly large during adolescence or later in life following the menopause or because of the use of hormone replacement therapy (HRT). Some women also develop a noticeable asymmetry (difference in size or shape) between their breasts.
Breast or mammary gland is a milk-producing organ of the female body. It is located in your thoracic region. Some women suffer from a condition called macromastia. It can be due to various reasons such as hypertrophy of adipose tissue in the breast, after menopause, postpartum, genetics, etc. In this condition, your breasts are sagging and their size is bigger in proportion to your body causing a number of problems. A woman affected by macromastia suffers from pain in the head, neck, shoulders, and back. Blood circulation and respiration are also disturbed. In males, it is used to treat gynecomastia. Surgery is performed to reduce the size of your breasts. It is known as breast reduction or reduction mammoplasty. This operation comes under the category of plastic surgery. While performing the surgery, the nipple-areola complex (NAC) is preserved to make sure that lactational ability is not affected. The mammoplasty is performed for three reasons, aesthetic, physical and psychological. The surgery is often associated with Breast Augmentation and Breast Lift.
The Procedure
The procedure begins with making you lay in the supine position. Anesthesia is given to avoid pain during surgery. The area is sterilized and an incision is given around the areola and down your breasts. The flap of skin containing areola and nipple is displaced and excessive fat, breast tissue, and skin are removed to lessen the size of your mammary gland. In the next step, breasts are reshaped, areola and nipples are again placed over the reduced breasts and stitches are given. In some cases, when a large amount of tissue and fat is removed, skin flap with areola and nipples is detached and repositioned at a higher level according to the new size. Drainage tubes are inserted into the breasts to drain away blood and fluid. Bandages are applied over the stitched incisions. You are asked to wear a surgical bra. It is tried to make both breasts look alike; however, small variations in the size of breasts and areola can be there.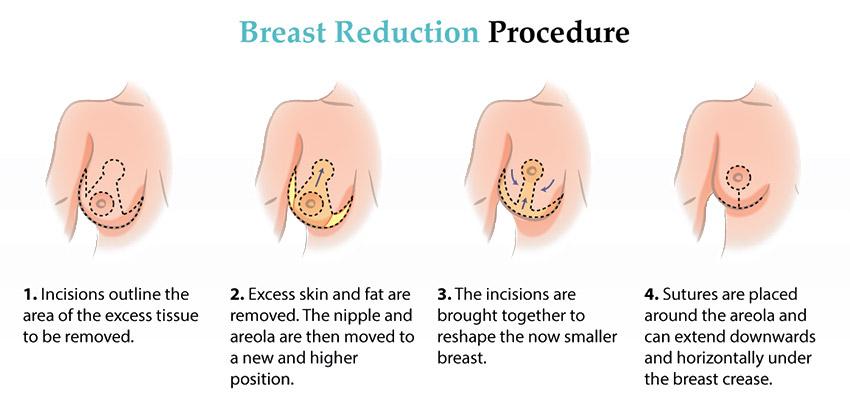 Length of Stay in Destination
Surgery can last between 2 to 5 hours and sometimes even longer depending upon the size of your breasts and amount of fat and tissue that is to be removed – an overnight stay as an inpatient is required. After monitoring your condition, you are discharged from the hospital. You have to stay for at least 14 days in the Area for follow up procedures. Regular check-ups are advised in the first few days after surgery. Oral pain killers are given to deal with pain and swelling. Stitches are removed in 2 weeks after which you are allowed to go home. In case you notice any redness, secretion, abnormal pain or inflammation, consult your doctor.
Recovery Time
It takes several months for recovery from a breast reduction surgery. You cannot go to work for 1 to 2 weeks after the surgery. There will be pain and swelling in the initial days for which you are given some medicines. Avoid intensive physical activity for at least 1 month. You are asked not to wear underwire bras for a few months. You are allowed to wear a normal bra after 4 weeks. It takes 6 to 8 weeks for the swelling and tenderness to go away. Even after complete recovery, scars do not disappear. However, they are faded and become less visible. Changes continue to take place for a year after going through this surgery.
Success Rate
Breast reduction mammoplasty is found to be successful in most of the cases. According to a survey, 80% of women are satisfied with the results of the surgery. This effectively reduces neck pain, back pain, headache, and shoulder pain, with your breasts no longer sagging and causing these problems. Respiratory and circulatory problems are also resolved. In case this surgery is not successful, it leaves prominent scars which can be subjected to hypertrophy. There might be less than the required amount of tissue and fat removal. Sometimes, more breast tissue is removed leaving your chest flat. A secondary breast reduction surgery is performed to cope with this.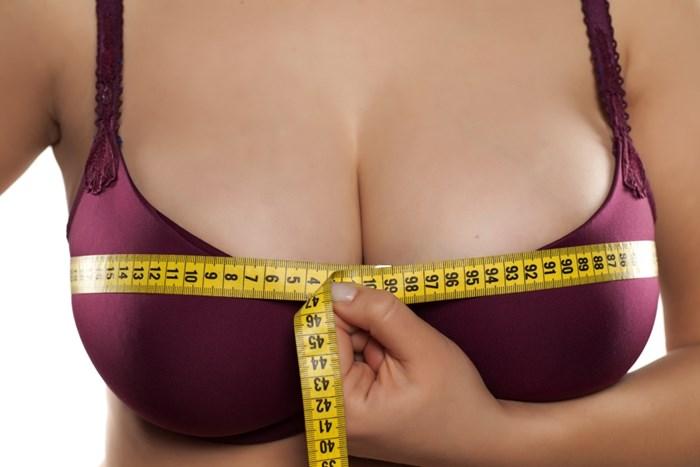 After Care
You should consider the following points to take care of yourself after surgery:
Do come for regular check-ups.
Take your medicines regularly, as and when prescribed by your physician.
Make sure that someone lives with you to look after you.
Follow a healthy diet plan for a better recovery.
Do not wear fancy, underwire bras in the early days. Wear surgical bra only.
Wear loose clothes, tees, and shirts.
Avoid excessive, unnecessary movement of your breasts.
Do not take a bath in the first few days, a wet bandage can be the cause of infection.
Do not ignore any kind of soreness, redness or abnormal secretions from your breasts. Visit your doctor immediately.
Drink plenty of water. It is very effective for a quick recovery.
Use icepacks to help you with swelling.
Do not try to lift heavy objects because your movement is restricted due to stitches. It can open up your stitches before time.
Do some stretching exercises when told by your physician.
Alternatives to a Breast Reduction Surgery Procedure
Following are some alternatives to reduce your breast size without going through a surgery:
Weight Loss: losing weight can also be effective in the case of reducing breast size. Some exercises are there to help you decrease your size. Exercise removes excess adipose tissue making your breasts smaller.
Liposuction: it is a less invasive method in which a small incision is given to insert a cannula and fat is sucked from it reducing breast size. There are least scarring and recovery is faster.
Fitting bra: it is not a permanent method to reduce your breast size but a specialized fitting bra can be helpful in making your breasts look smaller. It is not a standard bra.
Before and After Breast Reduction
Before going through a reduction mammoplasty, you suffer from pain in head, neck, shoulders, and back. Your physical appearance is not according to your will. Your breasts are saggy and look bigger in proportion to your body. However, this operation shows very positive results, all these problems are resolved. The pain in your body is relieved. The shape of your breasts is improved and they look rounded.
For an in-depth and personal review of the pros and cons of Breast Reduction, including before and after shots, watch this video blog.
The success rate is extremely high: It is likely that your breasts will be swollen and feel tender and lumpy after surgery. The final appearance of your breasts may not be obvious for several weeks. Scars are usually quite red for the first six weeks after surgery. They then change to a purple color over the next three months before fading to white. Most scars heal well but occasionally patients are left with red and lumpy scars that do not improve in appearance.
Patient reviews: The vast majority of patients are extremely happy with not only the results of the procedure but with the entire process leading up to and following the surgery.
To check prices or to book a Breast Reduction Surgery in Thailand or anywhere else in the world, head on over to MyMediTravel now!