What you need to know about Skin Cancer Surgery
Skin cancer, like other forms of cancer, may require surgery to remove the cancerous growth. For cancers that have not spread, surgery may be the only type of treatment needed. Skin cancers that are more aggressive, such as melanoma, often need more extensive surgeries. If your doctor found that nearby lymph nodes are inflamed, and the cancer cells are suspected to have spread, your doctor usually will need to remove the lymph nodes.
What Does the Procedure Involve?
Different surgical techniques can be used to treat skin cancer, depending on the type of skin cancer, where it is on the body, how large the cancer is, and how deep the cancer is. The following are the types of skin cancer surgery.
Mohs Surgery
Mohs surgery is performed to treat the most common skin cancers, squamous cell carcinoma, and basal cell carcinoma, as well as some kinds of melanoma and other unusual skin cancers. This surgery is designed to remove as much of the skin cancer as possible while ensuring the surrounding healthy tissue is preserved. During Mohs surgery, your surgeon removes the cancerous cells from the skin layer by layer, until only cancer-free tissue remains. It is usually used in highly visible areas, such as the face, head, or neck, in order to limit scarring. It can also be used to treat recurrent skin cancers. Mohs surgery is performed under local anesthetic, meaning only the affected area is numbed but you will remain awake during the surgery.
Excisional surgery
Excisional surgery is appropriate for any type of skin cancer. The surgeon performs an excision with a sharp razor or scalpel, shaving or cutting a growth off the skin. There are several types of excision that may be performed:
A simple excision uses a scalpel to remove the skin growth, as well as a small part of the surrounding tissue.

A wide excision involves shaving or peeling a growth off the surface of the skin using a sharp razor-like tool

Wide excision is usually used for Merkel cell carcinomas and melanoma. This type of excisional surgery removes the skin tumor as well as a wider surrounding healthy tissue. It may also extend more deeply into the skin.
Excisional surgery is done under local anesthetic.
Curettage and electrodessication
This procedure involves removing a skin lesion with a curette, which is a long, thin surgical tool with a tiny circular blade on its end for scraping. Once the lesion is scraped, the affected area is then treated through electrodesiccation, which uses an electric needle designed to reduce bleeding and kill any cancer cells that remain on the skin. The process may be carried out several times and is performed under local anesthesia.
Cryosurgery
Cryosurgery, also called cryotherapy, is a technique to freeze and destroy cancer cells using liquid nitrogen. The technique may be repeated several times and is only used for pre-cancerous lesions and small skin cancers.
Laser surgery
During laser surgery, an intense beam of light is used to destroy cancer cells. This type of surgery is only used to treat very superficial skin cancers.
Lymph node biopsy and removal
A lymph node biopsy is often performed on patients with melanoma. During this procedure, the doctor will remove one or more sentinel lymph nodes. If no sign of cancer is found in the lymph node, no additional lymph node surgery is required. However, if melanoma cells are found in one or more sentinel lymph nodes, it may be necessary to remove the remaining lymph nodes in the area.
Surgery for metastatic skin cancer
Basal cell and squamous cell carcinomas, which are the most common types of skin cancers, normally do not metastasize. However, melanoma may travel to the bones, brain, lungs, and liver. When this happens, surgery may be needed to remove tumors from those locations. This surgery may be combined with other treatments, such as chemotherapy and immunotherapy.
Reconstructive surgery
Skin cancer surgery may cause disfigurement or scarring, particularly when extensive surgery is required to remove cancer, or when the surgery is carried in highly visible areas, such as the hands, neck, face, or head.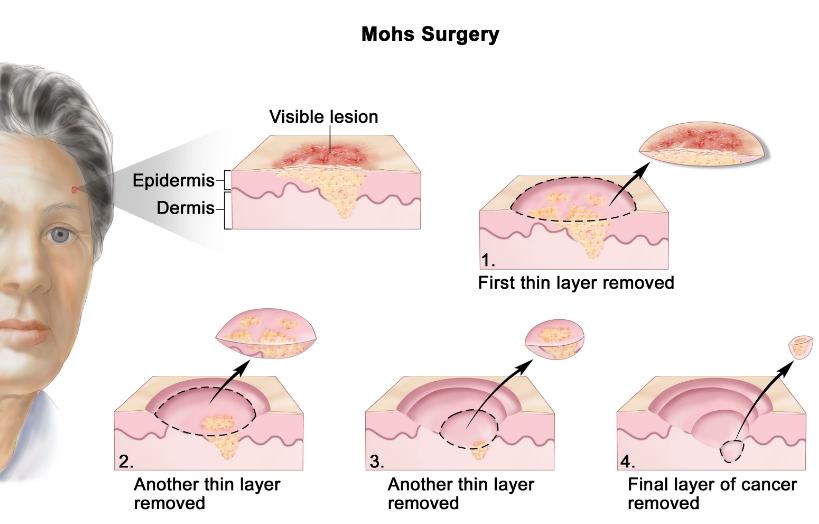 How Long Should You Stay at Your Destination?
Most skin cancer surgeries are performed as an outpatient procedure, meaning you can leave the hospital on the same day. For more extensive surgeries, you may need to stay for several days. It is recommended that you stay in the area for at least 7 to 14 days for follow up checkups and initial recovery.
What's the Recovery Time?
Recovery time of skin cancer surgery depends on the type of surgery you have. In general, it is wise to take it easy for several days. Your doctor will give you a detailed recovery timeline, which includes when you can go back to work and resume your normal activities.
What About Aftercare?
You will be given instructions following your surgery. It is important that you follow the instruction carefully. Try to avoid movements that may stress your wound and sutures, and make sure to keep the incision sites clean and well protected from potential injury. In most cases, you will have to attend a follow-up checkup to ensure cancer has not come back. However, you can choose to have this follow-up checkup with your local doctor.
What's the Success Rate?
Skin cancer surgery is generally safe and effective. Mohs surgery has one of the highest cure rates at up to 99%. Still, the surgery carries some potential side effects, including pain, swelling, bruising, bleeding, infection, scarring, disfigurement, fatigue, and lymphedema.
Are there Alternatives to Skin Cancer Surgery?
The alternative to surgery depends on the size, location, depth, and type of skin cancer. Small skin cancers limited to the surface of your skin may not need any treatment besides an initial skin biopsy. Other types of treatments include radiation therapy, chemotherapy, photodynamic therapy, and biological therapy. However, in some cases, these treatments are done in conjunction with surgery.
What Should You Expect Before and After the Procedure?
Before skin cancer surgery, you may have a cancerous growth in your skin that causes uncomfortable and painful symptoms. In some cases, growth can be dangerous and life-threatening. After skin cancer surgery, cancer should be removed and you may be cured of cancer, allowing you to live your normal life again and improving your quality of life.
For an in-depth analysis of a Skin Cancer Surgery, watch this short video.
To check prices or to book a Skin Cancer Surgery Procedure in Thailand or anywhere else in the world, head on over to MyMediTravel now!