What you need to know about PDO Thread Lift
The PDO thread lift is a cosmetic treatment that uses threads that are made of Polydioxanone (PDO) to tighten and lift sagging skin tissue. PDO is an absorbable polymer that is durable and flexible for minimally invasive thread lifts. The treatment can address concerns, such as fine lines, wrinkles, jowls, under-eye area, nasojugal folds, and nasolabial folds.
PDO thread lift is usually carried out on people who wish to rejuvenate the youthful appearance of the face, but do not want to undergo invasive treatments such as a facelift.
In PDO thread lift, your loose facial skin is not removed surgically. Instead, a cosmetic doctor simply stitches up portions of it using threads to suspend it. Once the threads are placed into the deeper layer of the skin, they produce 3 main effects:
Skin tightening by contracting fat tissue

Instant skin lifting through mechanical effects

Cellular renewal through collagen stimulation to improve the elasticity and textures of the skin.
Collagen plays a vital role in aging factors. It helps to keep our skin voluminous, strong, and supple. Therefore, collagen stimulation that PDO thread lift offers can help you combat aging.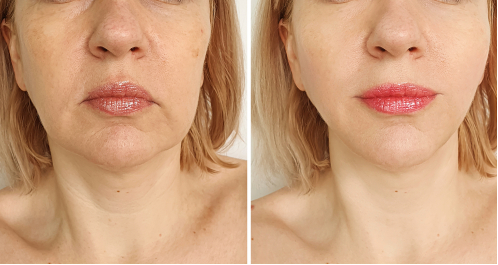 What does the Procedure Involve?
The procedure begins with your doctor marking your skin for insertion and direction of the inserted threads. Once your skin is marked, you will be given a local anesthetic to numb the affected area. The PDO threads are then inserted using blunt or sharp tip needles (known as cannulas) into different layers of the skin. Multiple threads can be inserted through the same point in the skin. Once the thread is inserted, they anchor the skin and lift it upwards. The thread is then released and the cannula removed. This process can be repeated several times until the desired result has been achieved. After the whole process of insertion is finished, any excess threads are cut off. The final step is massaging the threads to ensure no dimpling is present and the tissue is smooth.
How Long Should I Stay in the Area?
The PDO thread lift takes about 15 to 30 minutes to complete. Since it is an outpatient procedure, you should be able to leave the hospital on the same day. You should stay in the area for several days following the surgery to give your body some time to heal before you travel.
What's the Recovery Time?
You should be able to resume non-strenuous activities within a day. However, you should wait for at least a week until you can go back to your full normal routine. You will need to avoid strenuous activity, such as exercise and heavy lifting, for 2 to 3 weeks. Your doctor will give you a detailed recovery timeline, including when you can go back to work.
What About Aftercare?
You should not touch or wash the face for the first 12 hours. You also need to limit facial motion for 24 hours. During the first week, eat soft foods and drink plenty of liquid so you do not move your face too much. It is also advisable that you sleep on your back during your recovery to avoid putting pressure on your face that can cause misalignment of the threads. You will be given an aftercare instruction by your doctor.
What's the Success Rate?
PDO thread lift is a safe and effective treatment. When performed by a skilled doctor, the success rate is typically very high. However, it is important to remember that the result is not permanent. The threads will dissolve in around 9 months after the treatment, but the results will still continue for many more months. If you want a long-lasting result, you need to repeat the procedure every 6 to 9 months.
You also need to be well-informed about the risks and side effects before you undergo the procedure. PDO thread lifts may cause swelling, soreness, bruising, as well as minor puckering on the skin. In very rare cases, the procedure may cause infection, the formation of nodules, nerve damage, and damage to the salivary ducts.
Are there Alternatives to PDO Thread Lift?
You can typically choose other types of thread lift if you want to, such as the Silhouette Soft thread lift, which is suitable for those who want to compress their skin tissue to produce volumizing effects. However, if you do not want or cannot undergo any thread lift procedures, your alternative options are:
Facelift – this procedure is recommended for those who want more permanent results. This procedure is surgical and typically involves general anesthetic. During a facelift, your surgeon removes sagging skin and other problems through an incision.

Ultherapy – this procedure is a non-surgical procedure that uses focused ultrasound to tighten, lift, and tone loose skin on the neck, chin, and brow.
What Should You Expect Before and After the Procedure
Before a PDO thread lift, you may have sagging skin, jowls, and fine lines. Immediately after a PDO thread lift, your skin is lifted and tightened. The best effects usually appear in 1 to 2 months. You will notice that your skin texture is better, smoother, and firmer.
For an in-depth analysis of a PDO Thread Lift Procedure, watch this short video.
To check prices or to book a PDO Thread Lift Procedure, in Thailand or anywhere else in the world, head on over to MyMediTravel now!