What you need to know about Implantable Contact Lens (ICL)
Implantable contact lens (ICL) is a special contact lens that is implanted inside the eye and works with the eye's natural lens. Unlike regular contact lenses, ICL does not need frequent removal. It can correct a wide range of vision errors, including nearsightedness (myopia), farsightedness (hyperopia), and astigmatism. ICL is made from a material called collamer, which is safe to stay in the eye for a long period of time. The lens can be customized according to the patient's eye shape and size, and it can be removed if your prescription does change over time. ICL is a possible solution for people who are not ideal to undergo LASIK or those who do not like the idea of permanently removing their corneal tissue.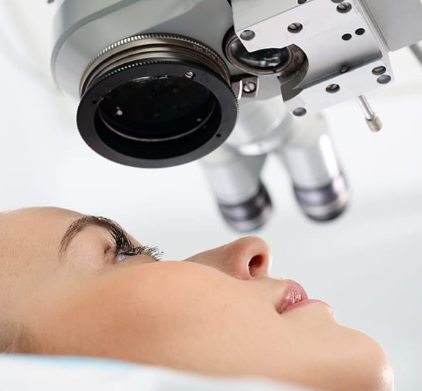 What does the Procedure Involve?
During ICL, your eyes are numbed with topical anesthetic drops, so you will be awake but will not feel anything. You may also be given a sedative to help you feel more relaxed. Your surgeon starts by cleaning your eyes and applying a sterile drape around your eye. An eyelid speculum is used to keep you from blinking. After that, your surgeon creates an incision near the cornea to position the contact lens. Because the contact lens is foldable, only a tiny micro-incision is required during the procedure. Once your surgeon has created the incision, the lens is then carefully implanted between the iris and the natural lens through the micro incisions. Then, the contact lens unfolds. After the contact lens is unfolded, your surgeon places the edges of the lens behind the iris to make it truly invisible.
How Long Should I Stay at my Destination?
The procedure usually takes around 10 to 15 minutes per eye. If you need the contact lenses on both eyes, then they will be implanted on the same day. ICL is an outpatient procedure, meaning you can leave the hospital right away. However, you should not leave the area immediately. Plan to stay for at least 3 to 5 days for initial recovery and a follow-up checkup. During the follow-up checkup, your surgeon will examine your eyes and test your vision refraction.
What's the Recovery Time?
The recovery time after ICL is relatively short. While your eye will be completely healed within a month or two, you should see the result within 24 hours. It is recommended that you take at least 5 to 7 days off work and avoid any vigorous activity. Your surgeon will discuss the recovery timeline in detail with you.
What About Aftercare?
For the first several days, you should limit your activity, avoid heavy exercise, stay away from swimming pools, and avoid any activity that can cause fluid to drip into your eyes. You may experience some mild pain or burning of the eyes after the procedure, but your surgeon will prescribe you medications to help ease the pain and discomfort. It is also recommended that you visit your eye doctor once a year for examination.
What's the Success Rate?
Before being placed on the market, ICL was subject to extensive research and development. Today, it is an effective, safe, and highly successful procedure, with about 99% of patients who had it claimed to be satisfied with their implants.
Although the procedure is safe, it still carries some potential risks, including under correction, overcorrection, and infection, damage to the crystalline lens, increased intraocular pressure, cataract development, retinal detachment, halos, glares, and double vision. In some cases, the procedure may also cause headaches or blurring of vision.
Are there Alternatives to ICL?
If you decide that ICL is not for you, then you can opt for the alternatives. These include:
LASIK is a type of refractive eye surgery that aims to correct vision problems, such as farsightedness, nearsightedness, and astigmatism. It works by reshaping the cornea to enable light that enters the eye to be properly focused onto the retina. LASIK is one of the most common refractive eye surgery and it has a very high success rate.
Epi-LASIK is very similar to LASIK. However, it is mostly done for low myopes and patients who have thin corneas. It works by reshaping the surface of the cornea through the process of removing the corneal epithelium.
What Should You Expect Before and After the Procedure
Prior to having an implantable contact lens, you may have farsightedness, nearsightedness, or astigmatism. You may also dependent on contact lenses on eyeglasses, which limits your activities. After having ICL, you can have a clearer vision without the need for using eyeglasses. You also do not have to worry about putting in and removing contact lenses every day. You can enjoy an active lifestyle and participate in sports. Having ICL will improve your quality of life significantly.
For an in-depth analysis of an ICL Procedure, watch this short video.
To check prices or to book an ICL Procedure, in Thailand or anywhere else in the world, head on over to MyMediTravel now!