We have fat cells everywhere on our bodies, but not always in the right places. If you have ever wished to move that fat in your tummy to your buttocks, breast, or other parts of your body, then a fat transfer is the answer to your question. Fat transfer is a relatively new technique that is becoming more and more popular each year. Many people consider it "natural" plastic surgery as it uses your own fat. If you have been reading articles to find more information about this procedure, you may have noticed that it is always associated with liposuction. But, why? Is fat transfer a liposuction procedure?
In a way, yes fat transfer is a liposuction procedure, at least a part of it. Fat transfer, or fat grafting, involves extracting fat from one part of the body and then injecting it elsewhere. The fat is obtained through gentle liposuction. Therefore, liposuction is a big and important part of fat transfer. Without liposuction, your doctor cannot obtain your fat and the fat transfer procedure simply cannot be performed. 
Curious to learn more about the procedure and how liposuction is involved? Keep reading to find more information about fat transfer!
How does the fat transfer work?
Fat transfer consists of two completely different procedures: liposuction to extract the fat and injections to transfer the fat. During the procedure, both the donor site (the area where the fat is removed) and the recipient site (the area where the fat is transferred) are sedated by local anesthesia. However, if the amount of fat to be transferred is big, general anesthesia may be used. 
After you have been sedated, the procedure begins with liposuction to harvest the fat. The most common donor areas are the stomach, hips, or thighs. During liposuction, the fat is gently extracted from the donor sites through small incisions. Then the donor areas are contoured for a more aesthetically pleasing shape. Once the extraction is complete, the harvested fat is prepared and filtered from the excessive liquid. Your surgeon will make sure the fat is purified with minimal manipulation to assure good graft survival. 
The purified fat is then injected just below the skin. Your surgeon injects the fat evenly in different layers of the recipient site using different sizes of cannulas and syringes. It is important that the fat is injected close to a blood vessel so it does not die as a result of a lack of nutrition. Proper nutrition is required for the cells to survive and grow. In some cases, your surgeon may overfill the recipient areas during the injection process. This is done because some of the fat will fail to establish a blood supply and eventually die, being absorbed, or disposed of by the body. If the fat dies, the overall volume gained from the procedure is reduced. 
Where can I have the fat transferred to?
There are various different areas that people request for fat to be transferred to. The most common is the buttock and breast area. By adding fat to these areas of the body, you can get a fuller, firmer, and plumper appearance. People also use a fat transfer on their hands and face, mainly to combat the signs of aging. Here are the most common areas to transfer your fat:
Face.

 As you grow older, your face develops facial creases, such as smile lines, laugh lines, and crow's feet. Numerous areas in the face may also lose their own fat stores, making them look sunken. Due to these problems, you may not look as full and youthful as you once were. With a fat transfer, your surgeon can extract fat from your thighs or abdomen and inject it into the sunken areas of the face, such as the cheeks. The extracted fat can also be used to minimize lines between the nose and mouth, correct skin depressions, and minimize forehead wrinkles.  

Breasts.

 Fat transfer is commonly used in breast augmentation and reconstruction. If you are unhappy with the size of your breasts or you have breast defects following lumpectomy for breast cancer, your surgeon can remove fat from other parts of your body to your breasts. The results will look a lot more natural than using implants. However, in some cases, fat transfer is also used in addition to breast implants. If you have residual breast irregularities due to breast augmentation with implants, your surgeon can fill the irregularities with fat to create an optimal shape and smooth contour.

Buttocks.

 If you dream of a fuller, more rounded buttock, your surgeon can also transfer fat to your buttock. Transferring fat to the buttocks is commonly referred to as "Brazilian Butt Lift."

Hand.

 One of the main signs of aging is wrinkled areas in the hands. Fat transfer is a very effective procedure to plump up these wrinkled areas. The transferred fat covers the underlying vessels and tendons, which will lead to an improved quality of skin over time.
What are the advantages of fat transfer?
Fat transfer is a popular procedure because it has numerous benefits. Let's take a look at some of the top benefits.
Removing fat from an area where you don't want it.

If you have a bit of extra fat in your thighs, stomach, hips or buttocks, you can lose some of that fat. This will leave you with a more contoured silhouette

Transfer the fat to the area you do want it. The fat from the area where you don't want it can be moved to the area you do want it. You can transfer it to your face, breasts, or buttocks to give you a plumper appearance.

Use your own tissue instead of an implant.

Using your own fats has various advantages. Some people may be allergic to the ingredients in dermal fillers or the silicone shell of a saline implant, whether those ingredients are man-made or naturally occurring. Since the fat being transferred is produced by your own body, there is very little chance of your system rejecting it or you experiencing an allergic reaction to it.
Longer lasting than fillers.

The fat transfer usually lasts a lot longer than fillers. Most dermal fillers usually last as long as two years, but the fat transfer may last a lifetime.
Is it risky? Are there any disadvantages?
Every surgical procedure carries some risks, and fat transfer is not an exception. When it comes to fat transfer, there are actually very few risks associated with the procedure. Some of the risks are unusually low rate of fat survival, infection, bleeding, allergic reaction to the anesthetic, fat embolism, uneven results, and calcification. However, fat transfer is a very safe procedure. Most of these risks are rare and can be further minimized by choosing a skilled plastic surgeon.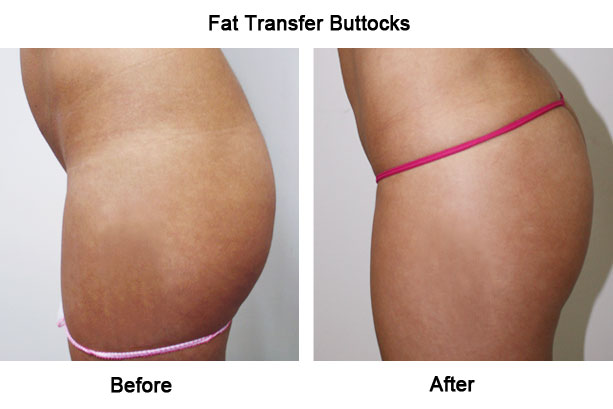 Besides the risks, you also need to be aware of the disadvantages so you know what to expect. The disadvantages are as follows.
It may require 4 to 6 separate sessions to get the best potential results.

Some of the fat injected into the breast area may die. This condition, commonly called necrosis, can cause painful symptoms.

The injected fat may be absorbed by your body, so you lose some or all of the volume over time.

It is not as quick as filler injections. You do have to think about the recovery time.

There are limits as to how much fat you can inject. 
How to look for the best fast transfer?
If you decide to get a fat transfer, it is highly recommended to check a few things before choosing. If you have it performed in your home country, you can choose by recommendations from friends or relatives that you can trust. However, if you wish to have it performed overseas, these tips may prove useful:
Find a medical center with international accreditation, such as the Joint Commission International (JCI) and International Organization for Standardization (ISO). These organizations have very high standards of safety. So, to make sure you are in safe hands, always choose an internationally accredited medical center.

For you to make the right call, check other patients' reviews. Check if previous patients were satisfied or not. It will help you get a better idea of the care you could receive as well as about the quality of the fat transfer they offer.

Ask about the surgeon's credentials. Knowing the surgeon's credentials will give you peace of mind and make you feel more comfortable. Also, you will see what kind of preparation the surgeon has and see if the skills match with what you looking for.

Warranty. Trustful medical centers usually give a warranty for their treatments. It is very important that a medical center can guarantee that fat transfer will be done correctly. In addition, if you are not satisfied with the results, you can get it fixed.

Get the help of a medical tourism facilitator. For most people, researching for the best medical centers and qualified surgeons is a stressful process.

MyMediTravel

is happy to do the leg work for you and find the best options for your fat transfer.