Liposuction is the number one treatment for the removal of stubborn fat cells, and liposculpture is the shaping of the skin back to its desired shape. Both are done in conjunction with one another at the same time. Most areas can be treated. Traditionally the most popular areas are the stomach, chin and neck, love handles, arms, and inner and outer thighs. Becoming more popular are the knees, calves and ankles, all with very successful results.
Liposuction should not be viewed as a quick fix for individuals who are significantly overweight. The procedure works best for those who have already lost some weight themselves and are close to their ideal weight but need help tackling stubborn areas of fat in problem areas.
Unwanted fats are very hard to get rid of especially if you are not a fan of exercise or diet. Liposuction, also known as Lipoplasty, liposculpture suction, lipectomy or simply lipo" is the leading fat treatment procedure to remove stubborn fat cells. It basically eliminates unwanted fats by suctioning it away.
This type of procedure permanently removes fat cells and enhances the shape of your body. A plastic or dermatologic surgeon usually performs this type of procedure on the patient's: belly, hips, thighs, buttocks, arms, back or face to improve their shape. Furthermore, liposuction can also be done together with other plastic surgeries such as facelifts, breast reductions, and tummy tucks.
This treatment procedure is particularly used for aesthetic, mainly to improve a person's appearance. In most cases, maintaining and achieving such positive results will depend on your lifestyle. You will be required to have a healthy lifestyle, with a balanced diet, regular exercise, and a healthy sleep schedule.
To Consider
Lipo definitely improves the body's contours; this dramatically impacts a person's body image and most importantly, a person's self-esteem.
It is very important to understand that a Liposuction procedure doesn't necessarily equate to an overall weight-loss method or an alternative of such. Furthermore, this treatment procedure does not also eliminate cellulite, dimples and stretch marks.
Your overall fat distribution is actually determined by your diet and heredity. If you are an overweight individual, you are most likely to lose a lot of weight by undergoing extensive diet and exercise or through bariatric procedures like gastric bypass surgery.
You are a good candidate for the procedure if you have excessive body fat in certain areas of your body but otherwise have stable body weight. Note that Lipo is for people of normal weight but have areas of stubborn fat. It is also for people whose skin is elastic and can contract after the fat cells have been removed. For people who lack skin elasticity, you may end up with a loose- looking skin after the procedure.
Furthermore, you have to be over 18 years old and in good health before undergoing the procedure. People who have circulation or blood flow problems like diabetes, coronary artery disease, and a weakened immune system are not advised to undergo the treatment.
The Procedure
Before you have the treatment, a series of tests are required to ensure if you are fit for the surgery. You will also need to sign a consent form to confirm that you are fully aware of the risks, benefits and possible alternatives to the procedure.
You will likely be put under using general anesthesia, which can last for 1 to 4 hours. An epidural can also be used for procedures on the lower part of the body, although this is becoming increasingly unpopular now. Alternatively, you may be given local anesthesia if the procedure will be on small areas of your body. You may be asked to stand up during the procedure to ensure proper fat removal, but you will not feel any pain.
Tiny incisions will be made in the areas of interest through which a cannula can fit. This thin tube-like device is connected to a vacuum, capable of suctioning the fat from within your body. There are a few common techniques used, including Laser-Assisted or SmartLipo, UAL (Ultrasound-Assisted Lipo) or the most popular technique, Tumescent Lipo – this involves the pre-injection of a saline solution to help separate the fat from the blood, so less blood is removed. You'll discuss the best option with your surgeon before confirming what type of Liposuction is best for you.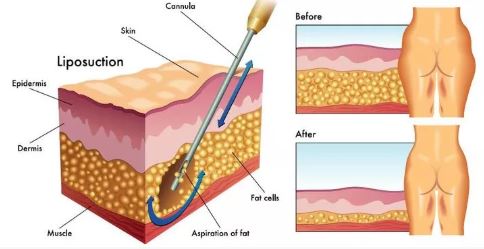 Length of stay in Destination
Generally, patients who have received general anesthesia will be required to spend the night in the hospital (in-patient). Patients, who have had local anesthesia, may be able to leave the hospital on the same day.
After the operation, you will have to wear support bandages (support corset, bandages or elasticated support) whilst healing. Expect some pain, swelling and bruising during the following days and weeks. Your surgeon will prescribe medication to help control your pain and antibiotics to reduce the risk of infection. Furthermore, your stitches may be removed during your follow-up appointment with your surgeon. You should expect to stay local for about a week post-op to allow for the initial recovery and check-up appointments, which will include the removal of stitches.
Recovery Time
Numbness in the specific area of your body where the fat was removed is to be expected for the first couple of weeks, usually, this will improve after 6 to 8 weeks. You may also need to wait a few days before going back to work. As for your normal activities, especially exercise, you may have to wait a few weeks before resuming.
Overall, the recovery time may vary from patient to patient. In most cases, patients can return to light activities within 2 to 3 days and are also able to go back to work after two weeks. As for the results, you may see visible results after 3 to 4 weeks, however, it can take several months before you see the final outcome.
Aftercare
Just like any other cosmetic surgery, following your surgeon's aftercare instructions is vital in achieving and maintaining the best results. If the procedure was done above your waistline, you may be advised to sleep propped on pillows to have elevation on the specific area. This helps drain the fluids and prevent them from pooling. Furthermore, applying cold compress on a certain area where the procedure was performed is highly recommended, this will reduce inflammation and bruising especially during the first few days.
Success Rate
Liposuction remains one of the most popular cosmetic surgeries with a success rate of 85%, offering patients the enhanced body shape they've been craving. However, just like any other surgeries, it also comes with possible risks. Complications vary and are dependent on the procedure is as well as your surgeon's skills. Possible risks and complications include:
Severe bruising
Inflammation
Blood clot forms in veins, causing inflammation and complications (Thrombophlebitis)
Kidney or Heart problems – changes in the body's fluid levels during the procedure may cause kidney or heart problems.
Pulmonary embolism – when fat gets into your blood vessels and travels to your lungs, eventually, blocking your lungs.
Alternatives to Liposuction
CoolSculpting – is a fat freezing liposuction alternative. This is more suited to people who are close to their target weight but still have unwanted pockets of fat. Coolsculpting is a fat-freezing procedure that crystalizes your fat cells until they break apart painlessly.
Ultrashape – a non-invasive procedure that doesn't require the need for anesthesia. This treatment procedure will make use of a body sculpting device that vaporizes fat cells within the targeted area with waves of ultrasound energy. Fat cells are permanently flushed out of your body, giving you a more natural-looking fat loss.
Liposuction v's Vaser Liposuction
Like traditional liposuction, the purpose of Vaser liposuction is to change the contours and shape of the body by removing persistent fat deposits. The word Vaser is actually an acronym for Vibration Amplification of Sound Energy at Resonance. This specialized ultrasound technology breaks down the fatty tissues using ultrasonic frequency waves, which is why it's often referred to as Ultrasonic Liposuction or Ultrasound Liposuction.
Liposuction v's CoolSculpting
CoolSculpting is the new non-invasive, freezing method used to also change the body contours and shape, however, this method does not require the use of a cannula so there is no damage to the overlying skin. Instead, it involves the controlled application of cooling localized fat deposits, which are then expelled from the body through the kidneys.
To check prices or to book a Liposuction procedure in Thailand or anywhere else in the world, head on over to MyMediTravel now!